Russia's actions against the Southern Gas Corridor and potential impacts in this direction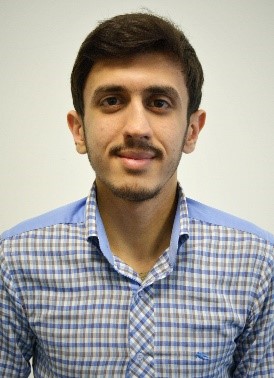 Aliyar Azimov, International Relations & Economics, BSU
Abstract
This paper is focusing on the Southern Gas Corridor and possible energy interests and threats by Russia on energy corridor. In the first part of this essay, a brief history of energy policy of Azerbaijan has been widely discussed. It includes the period starting from the independency in 1991 till the current period. In the second part of the essay, evaluation of Southern Gas Corridor has been explained from different aspects. This chapter studies strategic energy corporation between Azerbaijan and the EU in the Southern Gas Corridor context. The role of TAP and TANAP projects, route of Southern Gas Corridor, and political and economic aspects of energy corporation between Azerbaijan and the EU have been widely examined. Very last part of essay dedicated to Russian interests and possible threats to the Southern Gas Corridor, and all facts and political-economic aspects are emphasized.
1.1   Azerbaijan in the Energy Hub and Partnership with the EU
Azerbaijan is an energy-rich country and it was an ideal choice to bring its energy resources to the world market in order to revive the economy of Azerbaijan. In order to ensure Azerbaijan's strong and sustainable economic development, national leader Heydar Aliyev has defined the oil strategy, which later on will become the basis of the fundamental transformation of future political and economic reforms. On September 20, 1994, one of the most political, economic, and strategic important contract – an agreement on the joint development and production sharing of the Azeri, Chirag and Gunashli fields located in the Azerbaijani sector of the Caspian Sea was signed under the leadership of ex-President Heydar Aliyev. In 2002, the Baku-Tbilisi-Ceyhan oil pipeline project was adopted and it was a global step towards the transformation of Azerbaijan into the energy corridor. The president of the Republic of Azerbaijan Ilham Aliyev took part in the opening ceremony of the Baku-Tbilisi-Ceyhan oil pipeline on May 25, 2005, and the pipeline started operating in 2006 by delivering Azerbaijani oil to the Turkish port of Ceyhan (BP, 2018). Azerbaijan has reduced its economic and political dependence on Russia through this energy cooperation. The West was interested in energy cooperation with Azerbaijan because of its dynamic and stable development as a reliable energy partner.
Since 1999, Azerbaijan plays a key role in European foreign policy. Azerbaijan was in the constant interest of the EU due to its rich energy resources and geostrategic location. Because the EU was in sought of alternative energy sources in order to reduce its oil and gas dependence from Russia. In this regard, Azerbaijan was ideal and reliable partner for the EU to bring Caspian Basin energy resources to the EU. In 2011 Azerbaijan and the EU signed a joint declaration on the Southern Gas Corridor. SGC was more an optimal and promising version of Nabucco. Also, the direction of the project was also important for Europe. TAP and TANAP in the Southern Gas Corridor will deliver Azerbaijani gas to the South of Europe. The main purpose of this project was to diversify energy routes by using completely new and alternative directions. At the initial stage, the TAP will transfer Azerbaijani gas to Italy and Greece from Shah Deniz field.
1.2   Southern Gas Corridor and TAP&TANAP Projects
Several Central and Eastern European countries are highly dependent on Russian gas. Therefore, the main purpose of the European Union is to reduce energy needs of these countries from one provider and diversify energy lines. In this sense, the Southern Gas Corridor is the most important step by the EU in terms of ensuring the security of supply. The length of the Southern Gas Corridor project is 3,500 kilometers and its cost is about US $ 40 billion. In the framework of this project, Azerbaijani gas will be extracted from the Shah Deniz field and will be delivered to the South of Europe.
At the initial stage, the Southern Gas Corridor consists of three main pipelines;
South Caucasus Pipeline (SCP)
Trans Anatolian Pipeline (TANAP)
Trans Adriatic Pipeline (TAP)

Source: https://www.tap-ag.com/the-pipeline/the-big-picture/southern-gas-corridor
Initially, it is planned to bring 10 billion cubic meters Azerbaijani gas through SCP and TANAP to Turkey in 2018 and through the TAP to Italy and Greece in 2020. At the next stage, it is planned to deliver Azerbaijani gas to other parts of Europe. TAP pipeline is necessary for possible future directions. CEE countries are highly dependent on external gas resources and their strategic position makes them politically and economically important actors in the EU energy policy. Therefore, TAP project will connect with Trans Austria Gas (TAG) pipeline in order to bring Azerbaijani gas to Austria and CEE. Transitgas pipeline also is the important route, because TAP will connect with Transitgas pipeline and deliver gas via Switzerland to Germany and France. Moreover, United Kingdom, Italy, the Netherlands and Belgium will benefit from Caspian gas. Lastly, Southern Gas Corridor will connect with Bulgaria and South East Europe via Ionian Adriatic Pipeline (IAP) (SGC, 2018).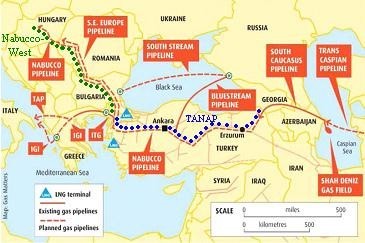 Source: http://vestnikkavkaza.net/news/politics/37535.html
There are several reasons why the EU strongly supports the SGC.
The SGC offers competitive prices, alternative energy resources and security of
The energy economy of CEE countries is highly dependent on one Therefore, the priority of the EU is to reduce the energy dependence and ensure the security of energy markets of these countries.
The SGC is particularly important for Greece and Bulgaria. The project aims to provide energy security in Greece and break the monopoly in
Last, but not least, it is the basis of cooperation between Azerbaijan and the
Below Map 1 demonstrates the route of TAP project. The TAP is the third segment of SGC after TANAP and will start from Kipoi on the border of Turkey and Greece. This gas pipeline will provide Albania, Greece, and Italy with natural gas by 2020.
Map 1. The route of TAP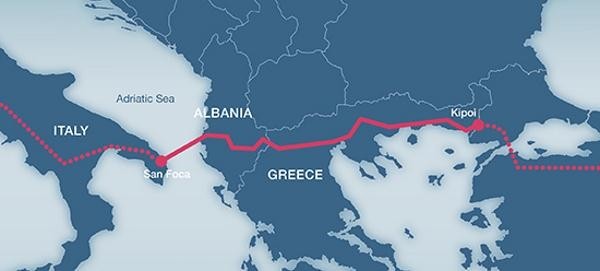 Source: https://www.tap-ag.com/the-pipeline/route-map
The Trans Adriatic Pipeline Project is also meant to prevent crises. It is known that the Nabucco project has become even more urgent topic after the gas crisis between Ukraine and Russia in 2008-2009. On the other hand, Russia proposed Nord Stream and South Stream projects as alternative energy projects to the Nabucco. Consequently, the Nabucco project was abandoned because of the high cost of the project and political reasons. That's why the TAP project plays a leading role in one of the European Union's strategic goals – "energy security and diversification of energy sources".
1.3  Russian interests in the EU energy market and influence towards Southern Gas Corridor
The EU is Russia's biggest energy partner and the EU depends on Russia in terms of energy supply as well. Russia is the 11th largest economy in the world, however almost entire of the economy relies on oil and gas revenues. This factor causes Russia to pursue a more rigid policy in the region. Russia is not interested in diversifying energy resources of the EU. Therefore, Russia is trying to prevent the realization of all projects that can be competing with its oil and gas pipelines. For instance, in 2006, Russian – Ukraine gas dispute affected the EU, because since 2004/2005 almost 80% of external gas resources came through Ukrainian gas pipelines (Nichol, et al. 2006). Russian – Ukrainian gas conflict was a struggle over prices and tariffs.
Russian – Ukrainian gas dispute was a wake-up call for the EU and it was elucidated by European press as a foreign policy tool against the pro-Western Ukrainian government. The issue was resolved after several days with the EU mediation, but it showed the need for to establish common energy policy within the EU. The EU entered a new crucial stage in energy policy during European Council meeting at Hampton Court in 2005. However, after that period, the EU's biggest step was the Southern Gas Corridor. Within the Southern Gas Corridor, TAP and TANAP Pipeline projects are of particular importance and since 2011, the EU has provided substantial political and economic support for these projects.
Since recent decades, energy is used as a political tool by some countries in order to be influential and to pursue geopolitical goals for strengthening their international positions. Recent events in Ukraine demonstrated that Russian energy plays a crucial role in European geopolitics and shaped potential risks and responses in the region. Eastern and Southern European countries, and Balkan states import their entire oil and gas supplies from Russia, thus energy dependency leads to higher threats and risk during the crisis period. On the other hand, Russia provides about 30% of the EU's gas supplies (Eurostat, 2017) and half of the supplies coming from Russia into the EU through Ukraine, this is why CEE and transit countries play a "gate" role between Russia and the EU, and it is particularly important for Russia to have influence in the region.
These countries itself are heavily dependent on Russian natural gas. From this point of view, the price is the most significant element for uninterrupted energy flows and political economic cooperation. Russia uses the pricing policy as it wishes because energy needs of these countries and lack of alternative routes make Russia advantageous in pricing policy. Beside this, period by period Russia applies or removes price discounts for political aims. The European market is very important for Russia. Because the vast majority of the Russian economy depends on energy revenues (Wile, 2014), and any problem that can arise in energy transportation and pricing can lead to serious consequences in the Russian economy. Therefore, Russian pipeline policy is focused on the dominance of Russia in energy market of the EU. Alternative energy routes also affect Russian energy prices and diversity of energy resources reduces Russia's political influence in Europe.
On January 24, 2017 the Deputy CEO of Gazprom Alexander Medvedev has officially demonstrated its enthusiasm to use TAP as a route to deliver Russian gas to the EU in European Gas Conference in Vienna. (Gurbanov, 2017) On the contrary, this step could prevent future gas supplies and destroy the EU's diversification plans. According to Alexander Medvedev, Russia is able to send more than 100 billion cubic meters of gas annually to the EU, however the scope of the pipeline project should be further increased because of insufficiency of Turkish Stream. For this purpose, Gazprom signed a Memorandum of Understanding with Edison (Italy) and DEPA (Greece) in 2016 in order to deliver Russian gas via Black Sea to Greece and from Greece to Italy via ITGI/Poseidon pipeline, which was proposed as an extension of Turkish Stream. (Gurbanov, 2017)
Russia can transmit gas to Europe through this pipeline without breaching the EU's Third Energy Package (TEP) and joining the TAP project. However, TAP is open to Third Party Access and when TAP's capacity is expanded up to 20 billion cubic meters per year, Russia can request additional space for Gazprom according to Third Party Access regulation in the second stage. But at first stage, Azerbaijan has already secured 100% of initial capacity of TAP for 25 years and in this sense, Russia cannot use TAP as a route unless major market and geopolitical changes take place in this period.
On the other hand, SOCAR does not consider Gazprom as a rival in energy projects. Nevertheless, in the future, Russia's joining this project will create competition between the Russian and Azerbaijani gas in terms of price and market share. In his statements, Medvedev stated that TAP is not likely to fill up in the future and the production of Azerbaijani gas is likely to decline significantly. With this negative statements and opinions against Southern Gaz Corridor,
Gazprom, does not want to lose its monopoly in Europe's gas supply market. Russia does not want to see a rival in the European gas market and is not interested in EU's energy diversification.
At the initial stage, it is planned to export 10 billion cubic meters of gas through the Southern Gas Corridor and 20 billion cubic meters in the next phase. These numbers are much smaller than the volume of gas exported by Gazprom, and the Southern Gas Corridor will not have a significant impact on Russia's share of the EU's natural gas imports at the initial stage. The Southern Gas Corridor is one of the next and most important steps in diversifying the EU's energy supply. However, the possibility of delivering natural gas from other fields of Azerbaijan, Turkmenistan and from Iran and Northern Iraq, if the events will change positively, to Europe via the Southern Gas Corridor may lead to significant changes in Europe's energy supply at the next stage. In this case, the Southern Gas Corridor can seriously hinder Russia's dominance in the European gas market.
Conclusion
In conclusion, Russia is trying to prevent the EU from supplying natural gas from new sources by creating barriers. These barriers vary depending on the course of events in the geopolitical plane. From this point of view, at the initial stage, Russia is questioning the reputation of the Southern Gas Corridor with its negative comments. At the same time, the Trans-Caspian pipeline, which will form the basis of Azerbaijan and Turkmenistan's energy export infra-structure, will be contrary to the interests of Russia. Future steps of Russia can impede realization of the project in any form with large-scale geopolitical maneuvers.
Despite all these facts, Azerbaijan – EU partnership has already entered a new phase. With the start of negotiations on a comprehensive agreement to modernize and revive this partnership, renewal of dialogue and cooperation are observed between Azerbaijan and the EU. The EU is ready to cooperate and with Azerbaijan by supporting it in all areas of mutual interest. In this regard, the official visit of the Foreign Minister of the Republic of Azerbaijan Elmar Mammadyarov Brussels was an important step in terms of strengthening bilateral cooperation, which the EU-Azerbaijan relations were widely discussed within the framework of the ENP (European Council, 2018).
BIBLIOGRAPHY
$2.15 billion in external finance secured for TANAP. (2017, February 14). Retrieved March 12, 2018, from Daily Sabah: https://www.dailysabah.com/energy/2017/02/15/215-billion-in- external-finance-secured-for-tanap
An External Policy to Serve Europe's Energy Interests. (2006). Retrieved from European Council: http://www.consilium.europa.eu/ueDocs/cms_Data/docs/pressData/en/reports/90082.pdf
Baku-Tbilisi-Ceyhan pipeline. (2018). Retrieved March 6, 2018, from BP Caspian: https://www.bp.com/en_az/caspian/operationsprojects/pipelines/BTC.html
Esakova, N. (2012). European Energy Security: Analysing the EU-Russia Energy Security Regime in Terms of Interdependence Theory. (T. Jäger, Ed.) Frankfurt, Germany: Springer VS.
EU-Azerbaijan Cooperation Council. (2018, February 9). Retrieved March 10, 2018, from European Council: http://www.consilium.europa.eu/en/media-galleries/international- ministerial-meetings/2018-02-09-eu-azerbaijan/
Gotev, G. (2018, March 6). Germany provides €1.2 billion loan for Southern Gas Corridor. Retrieved                               February                23,                2018,                from                Euractiv: https://www.euractiv.com/section/azerbaijan/news/germany-provides-e1-2-billion-loan- for-southern-gas-corridor/
Ibrahimov, R. (2013). Energy and Azerbaijan: History, Strategy and Cooperation. Baku: SAM.
Kubicek, P. (2013). Energy politics and geopolitical competition in the Caspian Basin. Journal of Euriasian Studies, 171-180. Retrieved March 3, 2018, from https://www.elsevier.com/locate/euras
Mard, M. (2016, October 25). EU-Azerbaijan cooperation – working together with different actors.                      Retrieved           March           9,           2018,           from           NEWTIMES: http://newtimes.az/en/diplomatik/4883/
NEFT VƏ QAZ LAYİHƏLƏRİ. (2018). Retrieved February 28, 2018, from Official Web Page of the                President           of           the           Republic           of           the           Azerbaijan: http://www.president.az/azerbaijan/contract
Oil and petroleum products – a statistical overview. (2017, July 28). Retrieved November 31, 2017, from Eurostat: Statistics explained: http://ec.europa.eu/eurostat/statistics- explained/index.php/Oil_and_petroleum_products_-_a_statistical_overview
TACIS. (2018, February 19). Retrieved March 8, 2018, from European Commission: http://europa.eu/rapid/press-release_MEMO-92-54_en.htm
The Southern Gas Corridor and the Trans Adriatic Pipeline (TAP). (2018, February 6). Retrieved March                      10,            2018,            from            European            Investment           Bank: http://www.eib.org/infocentre/press/news/topical_briefs/2018-february-01/southern-gas- corridor-trans-adriatic-pipeline-tap.htm
Wile, R. (2014, July 23). Here's How Dependent Russia's Economy Is On Oil And Gas. Retrieved February 4, 2018, from Business Insider: http://www.businessinsider.com/russia-oil-and- gas-dependence-chart-2014-7